Top 5 UI/UX Design Mistakes to Avoid in 2021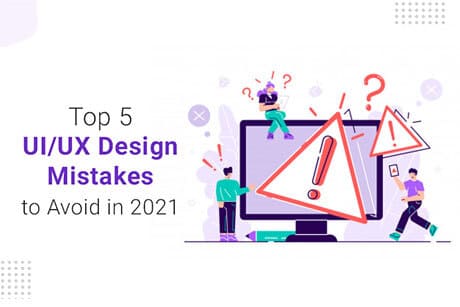 Good UI/UX design engages; great UI/UX retains!
As the people merge their social lives, work, and interaction into the digital landscape – demand for remarkable user experience design hat shot skyward. Anything less than that will cost you both money and time.
Let's take a closer look at the top 5 UI/UX design mistakes that must be avoided in 2021 and beyond.
#1. Ignoring User's Context
Empathy, they call it!
Various contextual factors influence a user's behavior when interacting with a digital interface. Consider the likely 'where,' 'when,' and emotional state of your user when they are likely to interact with your website/app.
An example of this can be sleep tracking apps. These apps have a calming dark display, making it easier on the eyes and perfect for someone setting the alarm just before going to bed.
There are exemplar and poor examples of user context in the UI/UX design everywhere. E.g., Google Maps is designed to minimize frequent touching while driving/walking, eBook readers come with excellent brightness & display controls, and note-taking apps like Evernote focus on composing, editing, and accessing the data offline.
#2. Going Beyond the Scope
As seasoned UI/UX designers, we know that more functionality and cool bells and whistles make the product look good. Though, not all 'cool looking' features and functions must be included in the design.
Designers often add some features that complicate the development process and are of little value to the user. An example of this would be keeping the 'Upload Picture' button for a project management tool. A simple button option would do the trick, but including more options like 'crop,' 'rotate,' and 'zoom' will only overburden the user (and development process!).
Avoid going beyond the scope by prioritizing design features. Cut the design clutter from a user's perspective.
#3. Not following an 'Inclusive Design'
Think about public systems like railways, libraries, airports, etc. If one cared to take a closer look, one would find 'universal inclusion' in the design factor.
Your UI/UX is no different!
Do not confuse good-looking design with good usability, where the latter inherently caters to users from a broad spectrum – even those with cognitive, visual, auditory, motor, and other disabilities. It is essential that specially-abled people can readily access your product.
While kicking off UI/UX design for your next fantastic project, keep its accessibility in mind. You can refer to these Web Content Accessibility Guidelines to incorporate them into your design process.
#4. Breaking 'Too Many' Conventions
We understand that great design requires abandoning conformist approaches and established norms. This often works well for painting and sculpture masterpieces but not for digital interfaces and experiences.
Great UI/UX design's prime objective is to offer usability, a great experience while considering all the users' collective limiting factors. This includes cognitive limits, perceptional limits, language, culture, age, and so on.
Take, for instance, the Homepage, search and cross/close icons across any digital/web design. These have become standardized over time, not because there isn't a better-looking design for them, but because they have been universally accepted by global users collectively.
Now, if you choose to break this 'conventional' homepage, search, and cross/close icon designs, it is fine. Here you run the risk of your newly acquired users fumbling with your app/website, struggling to go back to the homepage, but landing somewhere else and becoming frustrated.
The mantra here is to break the conventions but within containable limits! Too much of it will hurt the usability.
#5. Forgetting Design States
Your digital web product will be dynamic and must reflect the apt state when the users interact with it. By design states, we mean transitive states of the product like errors, loading, enable, disable, hover, filled, empty, etc.
Missing the design states can lead to more development iterations, unsatisfactory user feedback (because they'll all be so confused being unable to differentiate between different transient states). Not to mention more UI design changes.
So, create a simple checklist to include the design for different states and bypass this silly mistake!
Over to you…
Are you looking for an exceptional UI/UX design executed flawlessly? Tangence is here with its UnAgency model to serve you.
Let's talk and create stellar designs together