Emails and Landing Pages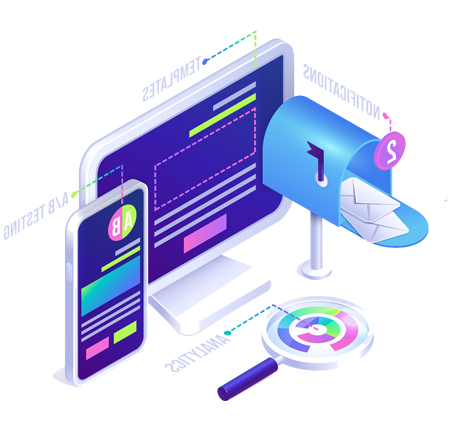 Emails and Landing Pages
Email continues to play a pivotal role in marketing. Emails have diverse uses - permission-based outreach, customer and partner communication, corporate communication, etc. A well-crafted email coupled with a well-designed landing page should be an integral part of any marketing program. Tangence's full-service offering can provide you everything you need to run a successful email campaign – copy, design, CRM and Marketing Automation integration, and reporting.
Create, Execute, and Optimize Email Campaigns and Landing Pages at Scale
Copy
We can take your raw ideas and convert them into clear and concise emails for your target audience.
Design
Our experienced team specializes in creating well-designed Emails and Landing Pages that make sure your message is consumed and viewed in its entirety, as much as possible.
Productions
Should it be text? What about HTML? Whatever the format, we have the expertise and team required to produce a large volume of Emails and Landing Pages with high accuracy.
Integration
The number of tools used to send out email campaigns is multiplying very quicky. We have the expertise to create Emails and Landing Pages that will integrate well with your tools – SFDC, Hubspot, Marketo, Adobe, Constant Contact etc. Bring it on!
Testing
Every campaign is an opportunity for you to test various messages and optimize the ones that work. Tangence's efficient execution can greatly enhance your ability to test and optimize your campaigns.
Execution
Finally, we can provide execution support to ensure that your email campaigns are executed on time, every time. You can focus on your marketing calendar, and we can take care of the rest.
Creative. Reliable. Efficient. Affordable.

Top Talent
Leverage the skills of a dedicated, talented team of experienced data experts and graphic designers

Efficient Execution
Enjoy on-time, every-time execution with a fully-managed process and turnarounds depending on scope

Scalable Delivery
Sit back and relax as we ramp up design production to match your growth—every step of the way

Affordable Pricing
Take advantage of highly skilled designers at competitive prices aligned with your budget

For Enterprises
Reinforce your market position with visual representations of compelling information, data, or knowledge

For Startups
Capture attention and make lasting impressions with memorable, high-impact infographics