The Un-Agency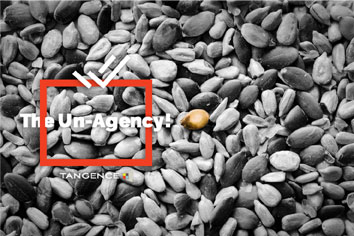 It sounds gimmicky! It sounds trite! What the hell is an Un-Agency anyway!
Yes, we thought all that too. And yet, it is the perfect way to describe what we really do.
Traditional marketing agencies bring a lot of positives to the table: great experience, a larger and varied skill set, and variable costs. However, all the benefits come with their own baggage too –
High costs: to the point that sometimes agencies are unaffordable and companies are forced to build inhouse teams
Lack of speed: we've all seen it. As work scales, agency turnaround times keep increasing!
Attitude: yes, we all know the prima donnas of the agency world
Tangence was created to offer corporate marketers a fresh new alternative: The Un-Agency model. So, what does Un-Agency really mean:
25% of traditional agency costs– yes you are reading that right!
Focus on responsiveness – we are 4x faster than most agencies out there. Tasks get done in 4-48 hours instead of days
No BS, no attitude: we are here to deliver what you need. Period. Not build portfolios. Not win awards. Client satisfaction is what it is all about!
And then there are the other Tangence special benefits
LAAARGE team: you'll be surprised what 150+ people can accomplish when working together
Years (decades?) of experience: we've been doing B2B, and only B2B, marketing for over 17 years now
Altogether Tangence offers a really potent and refreshing way to get marketing execution efficiently! Come see what the excitement is all about.