The Increasing Importance of UX in B2B Marketing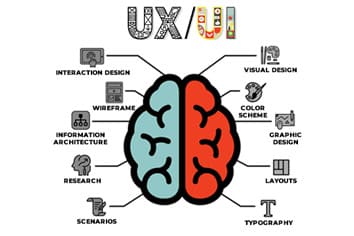 For the longest time, businesses considered the binary of UI/UX  important only for B2C marketing and promotion plans. This is the reason why you may have seen several B2B digital platforms with bland interfaces and forgettable experiences. Thankfully, enterprises have realized that confining UI/UX to the margins of B2C marketing is not a wise move.
Just like B2C businesses, enterprises working in the B2B domain also need to improve their user experience on respective platforms.  In this article, we are going to discuss the importance of UX for B2B marketing in numbers, its distinction from UI, and how an enterprise can ace its UX in B2B marketing.
Numbers Underline the Importance of UX
Ask professionals and design experts that assist B2B enterprises in their promotional campaigns and digital revamp measures; they will tell you how decision-makers are now gradually gravitating towards improving the overall user experience of their B2B clients. This requirement was previously limited to B2C working models.
This growing trend of focusing on UX in B2B marketing has its roots in encouraging statistics. As per a report by the Design Management Institute, enterprises focusing on design and UX in their work outperform their S&P 500 peers by more than 200 percent.
The Difference between UX and UI
In order to understand the impact of UX/UI design in B2B, let's start by differentiating between the two. UX is a more holistic and multifaceted concept that is not just boxed inside the website. The user experience offered by an enterprise to its B2B clients also spills to other channels. Also, UX is not just the work for designers. A successful UX regimen comes into existence with the collaborative efforts of designers, writers, strategists, and developers.
What Constitutes a UX Strategy for B2B Clientele?
UX for B2B promotion is not a linear activity. Enterprises have to work on various fronts to harness a good UX. Any comprehensive B2B UX strategy is essentially a 3-prong scheme.
Let's see what objectives these three elements of B2B UX strategy entails.
Organizational Goals
Provide relevant, useful content the solves clients' problems
Ensure greater insight and information on products, services, and the organization
Ensure extensive data availability for clients, so they don't have to look elsewhere
Client Facilitation
Ensure users don't get lost and remain on a clearly defined track
Devise seamless journey idm 6.30 build 7 crack from the first click for optimized task completion and better completion rates
Technological Improvements  
Provide fast loading time
Create a device-agnostic environment
Improve client engagement through interactive features
If an organization can deliver on the points mentioned above, it will succeed in creating a winning B2B UX strategy.
Areas to Work on Improving your B2B UX Game
As mentioned earlier, UX is not confined to just one area. You need to work on various fronts to ensure you can create the desired user experience for your B2B client. Here are just 3 places to focus:
Website
Your website is still the center of your B2B marketing universe. Good UX for websites should, among other things, target:
Easy navigation and discovery
Device-agnostic design
Design Consistency
Judicious use of CTAs
The goal is to design a website that avira antivirus pro 2018 full + key supports the complex journey that most B2B sales take, not impede the process.
Email
There may be a lot of spam, but email marketing is not going anywhere. So make sure you spend time designing emails that encourage the feeling of personal touch. Think about customization, personalization, and contextual content. If it even smells like a mass-produce corporate mailer, guess where most of them are going to end up.
Social Media
UX plays an even bigger role on platforms like LinkedIn, Facebook etc. You are going to get compared to EVERY piece of content out there. That includes the edgy D2C startups, the polished brands, and everything else in the middle. Do not get lulled into feeling that social media does not involve much variability and limited design options. UX can be impactful even more on social channels
Of course, there's other areas like Advertising, Publications, Events etc. that should also be part of your comprehensive B2B UX Strategy.
It is time we started thinking of UX as not just the interface for your software, but as the interface to your entire company.